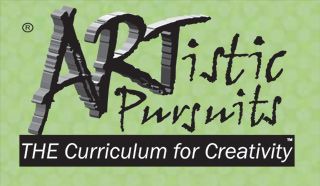 We recently had the chance to review ARTistic Pursuits, a comprehensive art program designed to involve children in the creative process while developing observational skills. Since we LOVE ARTistic Pursuits in our family, we were excited to receive the newly revised and expanded Early Elementary K-3 Book Two: Stories of Artists and Their Art.
Written by Brenda Ellis for children ages 5 and up, Stories of Artists and Their Art has 36 lessons including watercolor painting, oil pastels, printmaking, and mixed media and is a comprehensive art history curriculum covering great Master artists like Michelangelo, Rembrandt, and Giotto.
Each lesson begins with a short fictional story that gives the child an understanding of the artist and their unique vision of the world so they can apply that vision to their own work, followed by a project related to the story.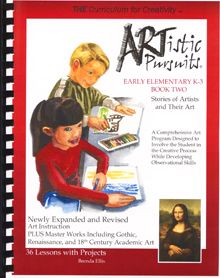 There is a supply list included at the beginning of the book so you'll know exactly what you need for each lesson, and art supply packs are available on the ARTistic Pursuits website. We bought the supply pack that goes with this book, and I'm so glad we did! What a difference high quality products make!
What We Thought: We use this book two times a week as our stand alone art program. First I read the story aloud to my first and third grader and we discuss it. Then we follow the instructions in the lesson to set up our work areas with the materials I've gathered ahead of time from the supply list. Next we have a blast creating beautiful works of art, and we end the lesson by discussing the artists work and talking about the questions. This book is well written and beautifully illustrated. I think ARTistic Pursuits is perfect for parents like me with no artistic knowledge or ability. Everything we need is right there with easy to understand instruction. I love that the lessons teach technique as well as art history in a way that is interesting and appealing to children. We genuinely love ARTistic Pursuits and highly recommend it without reservation.
Early Elementary K-3 Book Two: Stories of Artist and Their Art is available for $47.95.

Disclaimer: I received a free copy of this product through the Schoolhouse Review Crew in exchange for my honest review. I was not required to write a positive review nor was I compensated in any other way. All opinions I have expressed are my own or those of my family. I am disclosing this in accordance with the FTC Regulations.