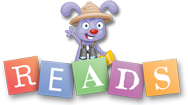 My six year old does not love reading. While she reads well, she never does so on her own, and almost never without complaint…until now! We recently reviewed READS Parent/Child Reading Comprehension System by EMG Educational Systems, LLC, and what a difference it has made!!
Developed by certified reading specialist Elaine Meyers for grades 1-4, READS-Really Easy And Dynamic Strategies-is a set of tools that helps children build reading comprehension skills and gives parents the ability to really know if they're understanding.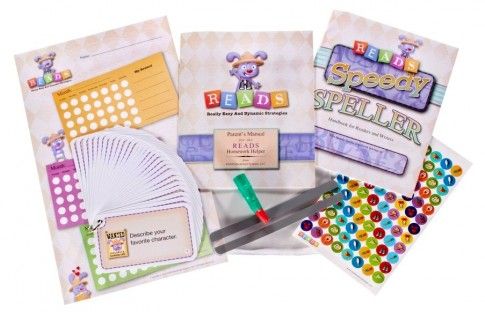 What's Included:
READS Parent's Manual: A quick read that gives you everything you need to get started and includes all the questions on the cards.
Question cards: 30 cards on a ring; these are the heart of the program. Each card has a question that gives the child something to focus on during reading and helps the parent know if the child is comprehending what they're reading. Some examples include: "Make a connection between something you read and something you already knew" and a more difficult one, (marked with a picture of a carrot on the bottom of the card) "While you are reading, find an example of a simile and be ready to share and explain it. Ask your Go-To Grown-Up to give you another example of a simile".
Speedy Speller: a handbook with over 1,000 words as well as abbreviations, numbers, symbols and more
Magic Finger and Reading Strip: two reading guides to help keep readers focused
Reward chart and stickers: great for goal setting
and it all comes in a reusable storage pouch!
What we thought:
We have silent reading daily for half an hour, so this fit perfectly into our routine. Before receiving the READS system, after she finished reading I'd ask questions that didn't really elicit much of a response. Now, we pick a card from the ring, she goes and reads by herself, and then she comes back and we talk about it. Once we're done talking she gets a sticker for her chart. Sounds so simple, right? It is, and it amazes me what a difference it has made! If I had known before that a creepy green finger was all it would take to get my six year old excited to read, I would have bought one long ago! Seriously, she actually asks to read now! And she's gone from being resistant to excited and animated when talking about what she read. One of her favorite questions is "Tell how the story ended. Get creative and change the ending". I love that these questions cause her to really think and get creative! And the Speedy Speller? She keeps it in her bedroom, and comes down with these great stories and drawings that she's made using words from the handbook. This product has truly been a perfect fit for our family!
 The READS Parent/Child Reading Comprehension System works with any reading material and is available for $19.95

Disclaimer:  I received a free copy of this product through the Schoolhouse Review Crew in exchange for my honest review. I was not required to write a positive review nor was I compensated in any other way. All opinions I have expressed are my own or those of my family. I am disclosing this in accordance with the FTC Regulations.