My husband will be going on his third mission trip to Ecuador this year. He passionately loves the land and the people, and even when he's home his heart is still with them. He incorporates the Spanish he learned while there into daily conversation, always practicing and striving to be better. Reviewing Estaciones (Seasons) by Spanish for You! has given us the perfect opportunity for our family to learn some of the language he loves so much.
Written by a Spanish teacher with years of experience, Spanish for You! is a theme based program for children in grades 3-8 that teaches students to speak, read, and write Spanish using a combination of written work and audio files. Each package comes with:
Spanish for You! softcover book and the following downloads:
 Audio mp3 download of the entire book (instructions for use in lesson guide)
24-30 week PDF lesson guide
Self checking worksheets (PDF)
Pictures for making flashcards
Bonus audio mp3 download of entire book recorded by native speaker
 What we thought:
We've been using Spanish for You! four days a week, with each lesson averaging 20-30 minutes to complete. Everything about using this program has been a breeze; from downloading files to printing pages to incorporating it into our everyday lessons. My girls were eager and ready to learn Spanish, and they love that right from the start they learned words and phrases they could use daily. They like the variety of learning activities, and have had a lot of fun practicing with flashcards and playing games like charades and bingo in Spanish. Another cool thing we've been doing is keeping track of the daily weather in Spanish. We have a calendar notebook that we've been using all year, and we've been keeping track of the weather since September. It's put a fun new spin on it to do it in Spanish instead! Another great thing is the audio files. Since I don't speak Spanish it's been really helpful to be able to listen to proper pronunciation of the words over and over. I think the combination of reading the words and hearing them at the same time is extremely beneficial. Overall I think Spanish for You is a great program and a great value that we are happy to continue on with!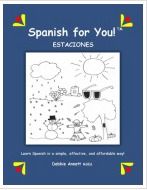 The complete Estaciones package, which includes lesson plans and worksheets for all grades 3-8, is $64.95. To see different package options, as well as additional themes, be sure to visit  Spanish for You!
To see what my fellow Crew mates thought, and to read reviews about Fiestas, visit the Schoolhouse Review Crew.