Katie has always enjoyed writing. This year she did a six week unit on writing research papers, and lost a little bit of her enthusiasm. We received Creative Freewriting Adventure and Creative Freewriting Adventure Coloring Book Edition by Home School Adventure Co. at the perfect time to help her get some joy back in her writing again!
Written by Stacy Farrell, each freewriting activity gives teens the opportunity to get creative and just write. After the intense writing required of her during the research paper, this was a welcome change of pace for Katie.
The idea behind Creative Freewriting Adventure is simple, but so effective. Each exercise includes a story followed by a writing prompt to get the student's creativity going. They set a timer for 15 minutes and just write. That's it. It is purely an exercise in creative writing. I read Katie's stories for the enjoyment of seeing what she created. There was no correcting spelling, punctuation, or grammar. I think being able to just write without worrying about any of those things was a very freeing experience for her.
How We Used It:
Since we received the PDF download, there was the option to do her writing right on the computer. We chose to print it all and put it into a binder, though, because there's just something about being able to sit in a cozy chair someplace and write. We didn't set a specific schedule for this. I told her she should write at least three times a week; other than those instructions she worked pretty independently. Since she worked so independently on this, I asked her to write her own review to share her thoughts. She wrote:
"My favorite thing about these freewriting exercises was that they gave us something to learn and then after that they gave us prompts and had us put ourselves in the story. I liked that even though it was about history, it wasn't a "here, write a ten page paper about what you read." It was fun. It didn't get boring because I wasn't stuck writing for twelve hours. My favorite exercise was the Winged Pony one, because I like horses, and think it would be so cool to fly, so it was fun to imagine what that experience would be like. I can't really choose a least favorite. They were all epic."
There you have it. I'm pretty sure "epic" is quite a praise in teen speak.
There are ten freewriting exercises in the Creative Freewriting Adventure. They are:
Thales
Pythagorus
Xenophanes
Democritus
The Wise Woman
Beasts
The Gallery
Winged Pony
Eternity
The Ultimate Christmas Party
Each writing prompt begins with setting the scene for writing. They call this "Your Journey." For example, one exercise begins with:
"You drive out to your best friend's farmhouse, hoping to surprise her with
a visit. Her pickup truck is parked in the gravel driveway, but she doesn't
answer her door…"
Next are some questions to get them thinking. I think there is a great use of open-ended questions contained here to help facilitate some creativity. They are broken up into sections:
Background
The Dialogue
Incorporate your senses
In addition to the Creative Freewriting Adventure, the Home School Adventure Co. also created the Creative Freewriting Adventure Coloring Book Edition. This is identical to the Creative Freewriting Adventure book, with the addition of a coloring page for each exercise. I think this would be a great choice for someone with a teen that would enjoy a corresponding coloring page to go along with their writing!
Members of the Homeschool Review Crew reviewed a variety of products from the Home School Adventure Co. To see what other exciting things they offer, click below!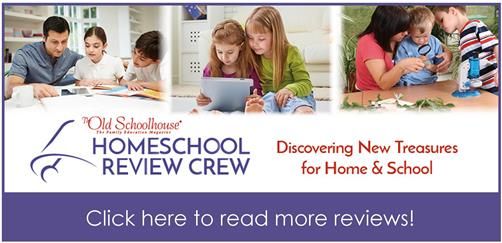 Visit Home School Adventure Co on social media:
Twitter:  https://twitter.com/HomeSchoolAdven  @HomeSchoolAdven
Facebook:  https://www.facebook.com/HomeSchoolAdventureCo
Pinterest:  http://pinterest.com/homeschooladven/
Google+:  https://plus.google.com/b/115241518288669984312/+Homeschooladventure
YouTube: https://www.youtube.com/user/HomeSchoolAdventure