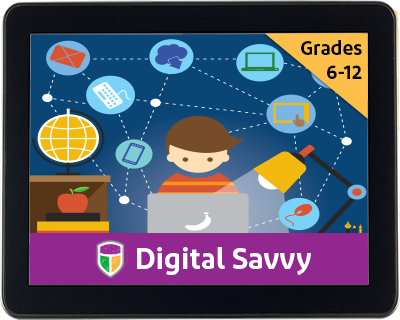 My husband has a degree in Computer Information  Systems, and I'm a wanna-be computer geek, so technology is well used around here. As our girls get older, they are getting more and more interested in all things technology related. Our 7th grader has recently been learning about computers from the inside out with the course Digital Savvy by CompuScholar, Inc.
Digital Savvy is a one year (two semester) course for students in grades 6-12 who have basic computer operation skills, that covers the required topics in most Information Technology classes.
The course content is presented in a multi-media format, utilizing videos, written text, quizzes and exams. There is also an activity at the end of each chapter to allow students a hands-on way to apply their new knowledge.
There are twenty-five chapters with a suggested pace of 33 weeks. You can easily adapt that schedule to fit your family's preference. For each chapter lesson there is a video lesson and lesson text. There are three to five lessons for each chapter, with a quiz, exam, and a practice project. Topics covered include:
Fundamentals of Computer Hardware
Fundamentals of Computer Software
Operating Systems
Computer Files
Computer Maintenance and Troubleshooting
Computer Networks
Search Engines
Computer Security
Word Processing
Spreadsheet Programs
Presentation Programs
Database Technology
Project Management and Teamwork
Digital Images
Internet Communications
Social Media
Creating Web Pages
Images and Animation
Programming Concepts
Digital Logic
Careers and Professional Skills
There is a teacher and a student account. From the teacher account, you can access a gradebook for each of your students to track their progress, and a teacher guide and quiz key for each lesson. There are also other useful tools like tutorials to teach you how to use the online system.
How We Used It:
Katie has used this course pretty independently. She logs in and watches the video lesson, reads the lesson text, and then completes the lesson quiz. Next she does the activity, and once she feels confident in the material, she takes the lesson exam. So far she's learned about introductory things like types of computers, hardware, and peripherals. She's also learned about software, applications, web browsers and operating systems. (My nerd heart is so proud!)
Sometimes I sit and watch the video lesson with her so we can discuss what she's learning, but for the most part she works through this all on her own. I check her gradebook regularly to keep an eye on her progress, and am always pleased to find her doing so well. I love that she's learning valuable information that she can immediately apply to her daily life, and she's learning it herself! It really helps build self-confidence at this age to be in charge of her lessons, and it gives her a great feeling of accomplishment when she starts to really understand how the technology around her works.
CompuScholar, Inc. did a fantastic job creating a course that is accessible enough for a student to be able to learn independently. The videos are well done, and the course content is exceptional. My techy husband loves to come home at night and talk with Katie about what she learned that day. When she finishes with Digital Savvy, she will be a knowledgeable and competent computer user. As a busy homeschool mom with kids in different grades, it's such a blessing to have quality courses like this available that teach kids important skills with minimal work on my part. We're looking forward to trying another course as soon as she's completed this one!

CompuScholar, Inc. offers other great courses, such as Web Design and Java Programming, both of which are being reviewed by my fellow Homeschool Review Crew members. Be sure to click below to read all about both courses, and be sure visit CompuScholar, Inc. on social media:
https://www.facebook.com/CompuScholar
https://twitter.com/CompuScholar   @compuscholar