My 13-year-old daughter loves to read, and she loves to write. She is also a big fan of workbooks, which may sound like a weird thing to mention, but she actually gets excited at the sight of a shiny new workbook waiting for her to fill. I thought the Grade 7 Lightning Lit Set from Hewitt Homeschooling was going to be a perfect fit for her, and I was right!!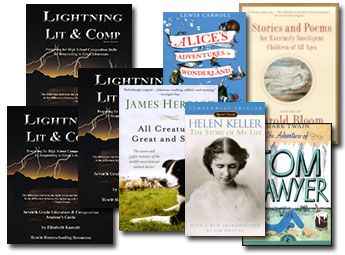 The Grade 7 Lightning Lit Set is a literature and composition program that helps students deepen their understanding of literature and apply that understanding to their writing skills. This set comes with the Teacher's Guide, Student Guide, Student Workbook, Stories and Poems for Extremely Intelligent Children of All Ages, The Adventures of Tom Sawyer, Alice's Adventures in Wonderland, All Creatures Great and Small, and Helen Keller-The Story of My Life.
The Student Guide is written to the student, and includes 36 weeks of work broken up into two semesters. In the Student Guide you find:
Introduction/While You Read: Includes a brief biography of the author, and gives information on the literary lesson and questions to consider.

Vocabulary Lists: Reference for words students may not know.

Comprehension Questions

Literary Lessons: Along with the writing exercises, these are the heart of the Lightning Lit series. Topics covered include plot, rhyme, and character.

Mini-Lessons: Additional practice that includes reading or an introduction to other composition skills.

Writing Exercises
The Student Workbook is meant to be completed after the reading and lesson and before the writing exercises, and includes seven types of activities related to:
Literary lessons

Mini-lessons

Composition skills

Thinking skills

Grammar and Mechanics

Puzzles

Extra-challenge pages
The Teacher's Guide includes a schedule, discussion questions, an answer key, and more!
What we thought:
The Grade 7 Lightning Lit set is a big hit here! I copied the suggested schedule from the Teacher's Guide and gave it to Katie, and she was off and running. She really enjoyed the first short story, "Rikki-Tikki-Tavi" by Rudyard Kipling. (I really enjoyed reading it, too, and we got in the habit of calling one of our cats Rikki Tikki Tavi after he was hunting a snake in our back yard.) The Literary Lesson for this story was Plot line. After reading about Plots in her Student Guide she completed activities like graphing a plot line, identifying parts of a plot,and writing a good opening. She finished the unit with a writing exercise where she identified each of the parts of the plot line in her favorite story. She just finished reading The Adventures of Tom Sawyer and is working through the workbook pages now.
There's so much to like about this program. The guides are all well laid out and easy to use. I really like the combination of reading and discussing great literature while learning about the literary elements, and writing exercise that cause her to think deeply. I am a fan of literature based education, and this one is definitely a keeper!
Hewitt Homeschooling offers other great curriculum, as well as a paper evaluation service. Be sure to click below to see what my fellow Homeschool Review Crew members had to say about their other products!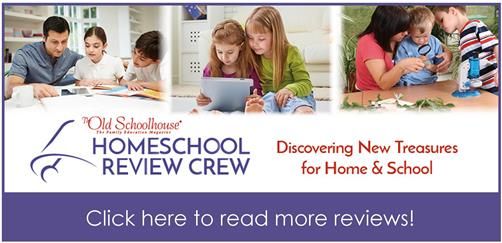 Visit Hewitt Homeschooling on social media!