We are starting a year long study on American history this year, so we were really excited to receive the Adventures of Rush Revere Book Series from Adventures of Rush Revere #1 New York Times Bestselling Book Series by Rush and Kathryn Adams Limbaugh!
The Adventures of Rush Revere Book Series is a five book series written by Rush Limbaugh. This fun series brings history to life as we follow the adventures of history teacher Rush Revere and his time-traveling talking horse Liberty as they travel back to visit some exceptional Americans of our past.
In book one, Rush Revere and the Brave Pilgrims, we meet substitute history teacher Rush Revere and discover that his horse Liberty not only can talk, but can time-travel as well! Together they travel back in time to witness the Pilgrims journey to the New World, and meet some exciting characters such as William Bradford, Myles Standish, and Squanto along the way. This book gives a new perspective on a well- known piece of history.
In book two, Rush Revere and the First Patriots, Rush and Liberty are off to Boston 1765 in the midst of a brewing revolution. Here we meet American greats like Samuel Adams, Ben Franklin, and Paul Revere.
In book three,Rush Revere and the American Revolution,Rush and Liberty and a couple of friends head to 1775 where a battle for freedom is in full swing.
In book four, Rush Revere and the Star-Spangled Banner, the Time-Traveling Crew lands in and exciting period of American history with lots of things happening. James Madison and the Constitution and Bill of Rights, and Betsy Ross and Francis Scott Key.
In book five, Rush Revere and the Presidency,the Time-Traveling Crew visits America as a free country, making stops along the way to visit George Washington and other early American presidents.
My 13-year old daughter wrote her own book review:
"In Rush Revere and the Brave Pilgrims, Rusty "Rush" Revere is a middle school History teacher. He started his first day at the school, and introduced his new class to his horse, Liberty. But Liberty wasn't your average horse. He was a talking horse who was struck by lightning and became a time machine. Along the way, Rush Revere met the queen bee of the school, Elizabeth; helped to unlock trouble making Tommy's full potential; and discovered a little about the mysterious Freedom who always seemed a little different than the rest of the class.
Mr. Revere's time-traveling powers were first introduced to Freedom and Tommy. He took Tommy to different parts of the Pilgrim's journey to the New World, and met William Bradford and Myles Standish. Another time Rush took Tommy and Freedom to the first Thanksgiving, where they met Squanto.
I thought these books were well written, but I think the target audience may be younger than me. These books are very informational. I think that what makes them so easy to read without feeling overwhelmed by all of the historical information flying at you is that the characters in the book actually travel to the events. It makes the books fun while you learn."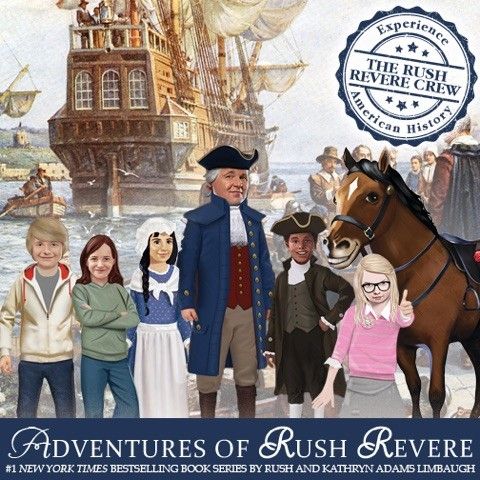 The Adventures of Rush Revere Series is a beautiful, high-quality hard cover set. Every book has great photos of all kinds of historical artifacts. American history is told with an adventurous, fun voice that makes learning enjoyable. I'm looking forward to reading all five books again aloud as part of our history program this year.
To see what my fellow Homeschool Review Crew members had to say, click below!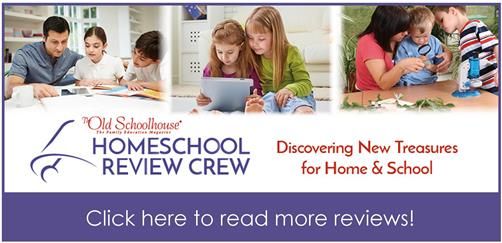 Rush Revere on Social Media: