As the school year is winding down, I've been thinking about ways to supplement our lighter summer school schedule. The Online Program from K5 Learning seemed to be a good way to fit in some fun interactive lessons.
K5 Learning is an online supplemental math and reading program for kids in grades K-5, and includes practice in the following areas:
Math:
Numbers and Operations

Measurement

Geometry

Data Analysis

Algebraic Thinking
Reading:
Phonemic Awareness

Phonics

Sight Words

Vocabulary

Reading Comprehension
Spelling:
Adaptive instruction

Optimized visual interface

150,000 word database
K5 Learning is easy to set up. You begin with a free online assessment in reading and math. The assessments are a bit lengthy, but they do break them up with short games to give the student a brain break. When your child is done with the assessment, you are sent a report that gives you an objective evaluation of your child's math and reading skills.
Francesca (my 5th grader) did her assessments all in one sitting. If I had that to do over again, I'd probably break them up. Even with the breaks in between, she was a little tired of answering questions by the time she finished. She did well, though, despite her frustration. In reading she scored a 700, which put her above her 5th grade range. Her score made her exempt from Phonemic Awareness, Phonics, and Sight words lessons because it was the highest score she could achieve in those areas. This report showed me that her reading lessons would focus on Vocabulary and Reading Comprehension.
In math she scored a 510, which was within the 5th grade range. This score placed her in the high 5th grade range for Numbers and Operations, the intermediate 5th grade range for Measurement, and the low 5th grade range for Geometry. This helped me to see her strengths and weaknesses, and what areas we needed to focus on.
Once the assessment was finished, the program customized her lessons according to her assessment results. If you find that the lessons aren't exactly at the level they should be, you have the option to change the level and adjust as you see fit. This program is easy to navigate, with the student home page giving them the option to do a reading lesson, a math lesson, or a spelling lesson.  Once the assessment was over, Francesca used this program independently. She just logged on and chose the area she wanted to work on that day. Once the lesson is finished, there is an option to do corresponding worksheets. I think that's a great way to reinforce what she just learned about, and a good way to incorporate the different ways of learning.
There is also a parent login page, where you can view reports, see your child's progress, change levels, and add spelling words to the spelling lessons.
Francesca got frustrated with the math section because there were topics covered that she hadn't learned in our math curriculum, and since this is a supplemental program, it didn't teach concepts. She enjoyed the reading program, though, and it gave her a fun break from the usual work. Overall I think this is a good supplemental program for both homeschoolers and public schoolers to use for extra practice or during vacations.
To see what my fellow Homeschool Review Crew members thought, click below.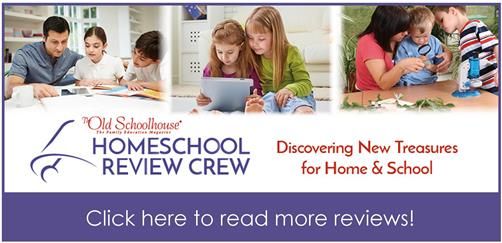 Visit K5 Learning on Social media!