A daily part of our homeschool day is to spend time in God's word, usually with a Bible curriculum, sometimes without. I find that it really helps us all focus and sets our hearts in the right place when we start our day reading the Bible and praying. Now that Katie is 13, I thought it would be a good time for her to start spending some time in the Word on her own. I was happy to receive the NIV version of I Can Study Jonah & Ruth Alone With God (13 Week Study) from Greek 'n' Stuff for her to try out!
Written by Karen Mohs, I Can Study Jonah & Ruth Alone With God was written for the middle to upper elementary age group, is thirteen weeks long, and is a consumable workbook meant to be used by one person. Each lesson has six parts, one lesson for each day of the week, Monday through Saturday. The first five lessons cover Jonah, and the last eight cover Ruth. There is a memory verse for each lesson, as well as questions to go along with the days reading, and a "Think and Pray About It" section.
The lessons are structured the same each day. First, you begin with prayer, asking God for help in studying His Word. On Monday you get the scripture for the week. Tuesday through Saturday the instructions say to read or recite the memory verse. There are questions each day for the verses for the week, so I think it would be helpful to read the entire section daily, in addition to working on the memory verse. There are boxes with thought provoking questions scattered throughout, and on the last day of the week there is the "Think and Pray About It" question. These are great questions to really mull over, and to ask God how you can apply them to your life.
What We Thought:
Katie has really been enjoying this study! She grabs her Bible every day and just sits somewhere quiet and works through it. Although Jonah and Ruth are both books she knows well, it has been good for her to read through them again, with the questions giving her things to think about that she may not have considered before. She likes that it isn't a big time commitment every day, and yet she still is getting something good from it.
I think the format is great. Having prayer time to ask God for help studying His word as a box to check off is a good reminder for a young person to take that time to talk to Him before beginning. I like that the questions are a combination of text specific questions, and thoughtful "what would you do/ what do you think" types of questions. I like that there are also tidbits of background information included, like the writer of the book, or information about the setting and time period. Overall I think this is a solid Bible study, and will be looking into other books in the
Alone With God
series when Katie finishes this one.
My fellow Homeschool Review Crew members reviewed a wide variety of materials from Greek 'n' Stuff. Be sure to click the banner below to check out their reviews!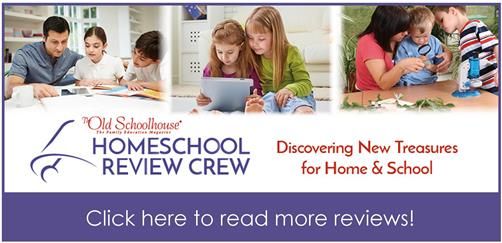 Visit Greek 'n' Stuff on Social Media!