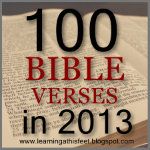 This year one of my goals is to be more intentional about memorizing scripture. I've decided to join
Shanna at Learning at His Feet
and lots of others in memorizing 100 verses this year using the book
100 Bible Verses Everyone Should Know By Heart
by Robert J. Morgan. Every Monday I'll be back to share the two verses we'll be memorizing for the week. Won't you join us?
Genesis 1:1-"In the beginning God created the heavens and the earth."
John 1:1- "In the beginning was the Word, and the Word was with God, and the Word was God."
I will be using the NIV for all of my verses. I plan on incorporating these into our homeschool as well, so that my whole family will have memorized 100 new verses by the end of 2013!