This year will be our second year participating in Classical Conversations. We have really come to love the Classical model of homeschooling, and enjoy having the support and community that come with this program. While Classical Conversations is designed to not need much supplementing, I am always on the lookout for fun things to enhance our learning. We recently received the Classical Conversations Cycle 3 Activity Book from A Journey Through Learning Lapbooks to try out, and I'm really excited about the possibilities!
Created by homeschool moms Paula Winget and Nancy Fileccia, A Journey Through Learning Lapbooks offers a great variety of stand alone lapbooks, as well as professional quality lapbooks for well known programs from Jeannie Fulbright/Apologia science, Jay Wile Science, TruthQuest History, Geography Matters, A History of Us, Diana Waring Presents, and more.
The
Classical Conversations Activity Book
line includes supplements for
Cycle 1
,
Cycle 2
, and
Cycle 3
. The
Classical Conversations Activity Books
come in a Junior format for grades K-2, and one for grades 3-6. There are downloadable products as well as a printed option, so no matter your preference they've got you covered.
A Journey Through Learning Lapbooks
is not affiliated with Classical Conversations, but Classical Conversations has endorsed their products. These are not meant to be stand alone books, you will still need the Classical Conversations guide to use them.
What We Thought:
There's a great intro
video
that explains in detail how to use the
Classical Conversations Cycle 3 Activity Book.
For the downloadable version, I just printed all the pages and three hole punched them to put them in a binder. For each week, there is a history sentence copy work page, a history notebooking page,a page for the memory work sentences in Latin, Science, and English with fun graphics, a science notebooking page, a fine arts page, and a geography page. Our Classical Conversations community hasn't started yet for the year, but as soon as it does, we plan on using the pages as suggested in the video.
On the first day after community day, which is a Wednesday for us, I will put the pages into a plastic sheet protector so that we can reuse them all week. On Wednesday through Friday, Francesca will use a dry erase marker to fill out the pages. On Monday we'll remove the pages from the sheet protector and she'll fill them out one more time. This completed sheet will stay in the binder, so that at the end of the year we have a fun and creative way to look back at all the things she's learned.
Before we discovered this gem of a book, we would go through the memory work each day and she would just practice saying the sentences aloud. I think the addition of a place to write all the facts each day is going to be a great way to help her cement all of the facts and really retain all of the information. I think this is a great tool and I'm going to recommend this activity book to all of my Classical Conversation friends!
My fellow Homeschool Review Crew members reviewed a great variety of A Journey Through Learning Lapbooks products. Be sure to click below and read all about them!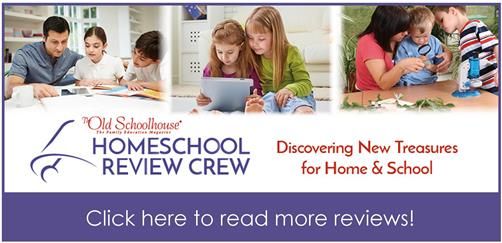 Visit A Journey Through Learning Lapbooks on social media:
Facebook:  https://www.facebook.com/AJourneyThroughLearning/
Twiiter:  https://twitter.com/AJTL_Lapbooks 
Google+:  https://plus.google.com/+AJourneyThroughLearningLapbooks
Instagram:  https://www.instagram.com/ajtl_lapbooks/