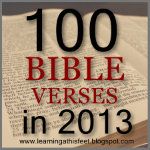 So week one was easy since they were verses we already knew by heart. This week there is one we know, and one we don't:
John 1:14- "The Word became flesh and made his dwelling among us. We have seen his glory, the glory of the one and only Son, who came from the Father, full of grace and truth."
And a more familiar one near and dear to our hearts:
John 3:16- "For God so loved the world that he gave his one and only Son, that whoever believes in him shall not perish but have eternal life."
…that whoever believes in him shall not perish but have eternal life. There it is. I urge you, if you don't have a personal relationship with Jesus Christ as your savior, there is no time like the present. Salvation is a gift, there is nothing we can do to earn our way into heaven. It doesn't matter how good you are, or how many people you help in your life, without Jesus it's all for nothing. Our days are numbered. Do you know where you're going when your days are up? Pray today. Right now.
Dear Lord. I know I am a sinner in need of a savior. I believe Jesus came and paid the price in full for my sins. I repent of my sins and I ask Jesus to come into my heart and to take control of my life. Amen.
There is no exact prayer for salvation, and the one I shared with you above is just a simple example. If you pray something like that, declaring with your mouth that Jesus is Lord, and believe in your heart that God raised Him from the dead after He was crucified on a cross, than it is my belief that you will be saved. Find a bible based church. Get to know God's word by reading and studying the bible. Pray. Now, don't wait.  In the blink of an eye it could be too late.