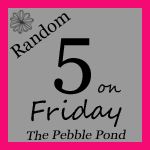 1. It's supposed to be spring, but we had hail and sleet and snow yesterday. I am so ready for warm air and sunshine!!
2. Although I love being a foster parent, I do not love social workers and lawyers that call me five minutes after they're supposed to be here to reschedule. I wish I could say it's the exception when that happens, but it's definitely the norm around here.
3. My husband and I watched Food, Inc. last night and were repulsed by what we learned. The more we learn the more we realize the importance of buying locally grown, organic food.
4. GMO's are bad for you. Really, really bad. And if you eat processed food, it's almost impossible to avoid Monsanto's reach. Monsanto=bad. Do your research. Be informed. Knowledge really is power. And those food giants? They're counting on our ignorance.
5. I love my camera. My husband bought me a Canon EOS 60D for Christmas a few years ago, and she's epic. Yes, she. I haven't spent as much time with her as I should lately, but I have a feeling if it ever warms up again outside we'll be spending lots of quality time together!
Visit Miranda over at The Pebble Pond for more Random 5 on Friday!