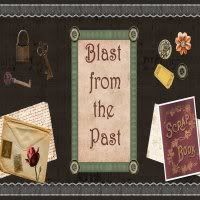 While looking through my picture folder for a cute baby picture of one of my girls, I came across this:
The dork on the left is me. The beauty on the right is one of my baby sisters. As you can see by the annoying date stamp, this picture is five years old. The reason this picture struck me tonight is because we look so happy. We were happy. For most of our lives I loved this girl like she was my own.
About two years ago we had a falling out. It was pretty bad. Things were said. Things were done. Awful things. I said things to her I thought I would never say. Ever.
As the time passed we talked. We tried to make things right. But I couldn't get over it. I tried. I cried about it. I prayed about it. I'm supposed to be a Christian. I'm called to forgive others as He forgave me. How could I hold this against her? For a long time I struggled with this. As much as I wanted to do the right thing-to be the person He has called me to be, I just couldn't do it. Every time I thought about her I was flooded with anger. And disappointment. And hurt.
I've been thinking a lot about her lately. I've been thinking that I miss her. I've been thinking about how sad it is that we're strangers now. This girl that I love so much. My sister.
When I came across her picture tonight all I felt was peace.
Maybe it's time.